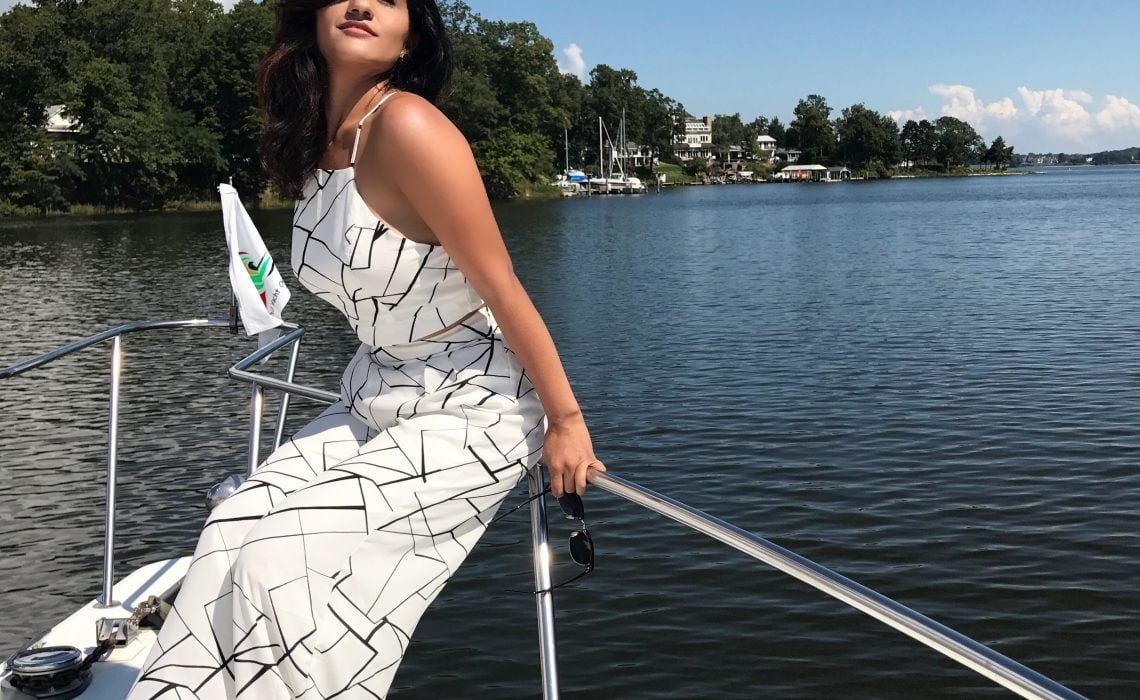 Hello Everyone,
I know It's been a while since I posted my last blog. Last two months have been crazy for me. I have been swamped with attending various events, traveling and preparing for my new school and starting MBA. However, this month is all about getting back on track. As many of you know, recently I had hosted a giveaway where I partnered with a yacht charter company called Island Chill Yacht Charters. Anybody from DMV area could enter a chance to win not only the 4 Hour Cruise around the Chesapeake Bay but also be visiting wildlife refugees, lighthouses and an hour stop at the Kent Island. The Captain & Cruise Director both were included while they play the latest tunes to keep everyone entertained throughout the cruise tour. This cruise will also be featured on Island Chill MagaZeen
To enter in this giveaway, all anyone had to do was to follow both of our pages on Instagram ( Island Chill Yacht Charters and my page) and tag a friend that they would like to enjoy the cruise with. Also, they were asked to answer the question, if you had a boat what would you name it and why? We had several applicants and we randomly selected 4 winners. Let's just say, winners were thrilled when they heard back from us. There was one more opportunity given to win.
Island Chill Yacht Charters sponsored the "Sip & Thrift" event by giving out 2 raffle tickets to the same cruise. Sta'cii Blake, Founder of Island Chill announced the two winners towards the end of the event. At the end of the day, we had 6 Winners for this particular cruise, which took place yesterday September 16th, 2017 at 11:00 am the marina in Edgewater, MD.
Before I tell you all about the cruise and how amazing it was. I want to quickly share a little bit more about the company. I was really happy when Stacie reached out to me for a fun shoot at one of their yachts a few months back. The company gave me an introductory tour for about 20 minutes while they also took some beautiful pictures of me. In this 20 minutes, I got to know a lot about the company and its background. Here is my conversation with Stac'ii.
Monica: How did this idea come up? 
Stac'ii: Island Chill Yacht Charter started from a small Island Chill Boat we had at first. It was used to take people out, to do their music videos or fishing etc. and we realized that people like the environment of Island Chill and the atmosphere. That's when we decided to get into Yacht Charter business and we started last year. This summer for us was about marketing and promotions and providing the best customer service for the returned business.  
Monica: You mentioned there is a "We".  Who is the co-owner? 
Stac'ii: The other founder is right here (pointing towards the captain). 
Monica: So did you both owned that small boat " Island Chill" together? Is that how it became a partnership?
Captain: Yes we did. The other boat was quite small but since we were getting such a good response, as Stacie mentioned we decided to go for the Yacht Charter business. I got my Captain License, Stacie got her Coast Guard License and then we invested in more boats. 
Monica: How many boats do you currently have?
Stac'ii : We have three boats – Irie Vibes, Therapy, and Tallawah 
Monica: So how long did you guys take to finally establish this business including licensing. 
Stac'ii: I would say about 4-6 Months. It was mostly trying to get used to it. It took us shorter time because we did our homework before getting into this business. We wanted to be on top of it in every way possible. 
Monica: Have you guys had any bad experiences at all? 
Stac'ii: Not Yet. Hopefully, not anytime soon. Most of the people that come to Island Chill are very relaxed at first and then as soon as get speedy they get energetic. We have only had positive experiences so far. 
Monica: Where do you see this company in the next year to 5 years. Are you planning on expanding with bigger boats or more services? 
Stac'ii: Yes, we are definitely planning on expanding and we want people to come from outside Annapolis to see Island Chill. We don't want to restrict ourselves to the locals. We want our name to go beyond that. We want to serve more people every day and give them an experience of their life. We sure are planning to get bigger boats, whatever the customer wants we would like to cater to that. 
Monica: Do you take suggestions at the end of the tour? 
Stac'ii: Yes, we always ask how was their experience, and if they could have done anything better. We always here positive responses, however, we haven't heard a suggestion so far. We provide complimentary fruits, snacks, and juices and do the most to cater to our customers. Most cruises don't come with a Captain and Cruise Director so our customers like that. We also provide a boat friendly bbq stand where people could do a bbq party as well. 
Monica: What's your pricing structure?
Stac'ii: It starts from 400 for a smaller boat and 550 for a bigger boat for a four-hour cruise on weekdays and from 650 to 850 on weekends. Which includes everything we spoke about earlier. There are no hidden fees. 
This was my quick chat with Stac'ii regarding the company. You can read more about the company on their website: Island Chill
Let's talk about my experience from yesterday's actual cruise. All of us boarded the cruise around 11:00 AM and we were given a liability form to sign. The boat that we used for this cruise was Irie Vibes.
Stac'ii gave us a welcome speech along with some rules and regulations and safety guidelines. As soon as the cruise started you could see the excitement on our faces yet we were so relaxed. At the start of the cruise, captain drives the boat quite slowly for us to enjoy the view at first and take the pictures we need on the front of the boat with all those beautiful houses around us.
Once we were done and got back to the sitting area in the back, he sped up the boat. I still remember the girls and Jordon going woooooaahh and also because the balloon hanging on the corner of the boat popped haha. The Potomac River was at its best yesterday and the weather was simply beautiful. We could see so many other sailboats on the river along with giant ships and that serene view. Captain slowed down the boat to show us the lighthouse. It was in the middle of nowhere as in the river. Yet, it was super cool to see. I wonder if anyone lives there? hmm.  Anyways, they also showed us the area full of wildlife. We didn't see any animals in that time except we did see a snake swimming in the river.
Our main stop and my favorite stop was the Kent Island. It's a hidden gem for sure. Never even or heard of that place before. Restaurants, bar, and the beach is all that we needed, however, we weren't dressed for any of that at all lol. We chilled at the beach area, took more pictures and enjoyed that comfortably knit swing.
We decided to get back to the yacht and soon after the captain took us to a different spot where you see all these people just relaxing in their tubes attached to their boats, drinking and having fun. At that moment, I thought how cool would it be to live a life like that, own a boat and all but then as soon as I saw myself in the mirror I realized it is not how I want to live. I get a tan too quickly, and no it's not a pretty tan. Finally, we headed back to the marina at around 3: oo PM. I didn't realize how quickly the time passed by. It truly was one hell of an experience. It was relaxing yet exciting and I couldn't have asked for a better cruise director and captain. I recommend this cruise to anybody and everybody who wants a mini getaway from their stressful life or not so stressful life. Island Chill Yach Charter is a great yacht services company that has exceptional customer service and so BOOK YOUR CRUISE NOW!!.
Thank you for reading today's post
XOXO,