Good Afternoon Everyone,
Today's blog post is about a simple tunic dress I bought from H&M when it was on sale this past month. The reason this tunic dress caught my attention was simply the colors and pattern. The dark color tunic with red stripes on the sides simply screams Sephora to me. Now if you are a makeup junkie like me then you have probably been to Sephora million times by now like I have. If you haven't noticed,  their uniform is very similar to dress except its black instead of Navy Blue.
I purchased it because I just loved the pop of red on the sides and thought I could wear it in so many ways. For today's blog, I kept it simple but trendy enough to make a statement. First of all, I got this dress for 10 bucks. Can you believe that? I absolutely love H&M for their sale section. There is always so much to choose from. They always follow the current trends and styles.
It is getting chilly these couple of days, so a light trench is a must. I chose to add my NY&Company Trench that I got last year in the color Tan. It's such a pretty and comfortable trench and goes with so many outfits. It's just one of those must have items in your closet. Also, since it's a neutral color, it's bound to still look good with whatever you style it with even 5 years from now.  Unfortunately, the exact color is sold out but they do still have it in the color Toffee Crunch and Black. The link is down below.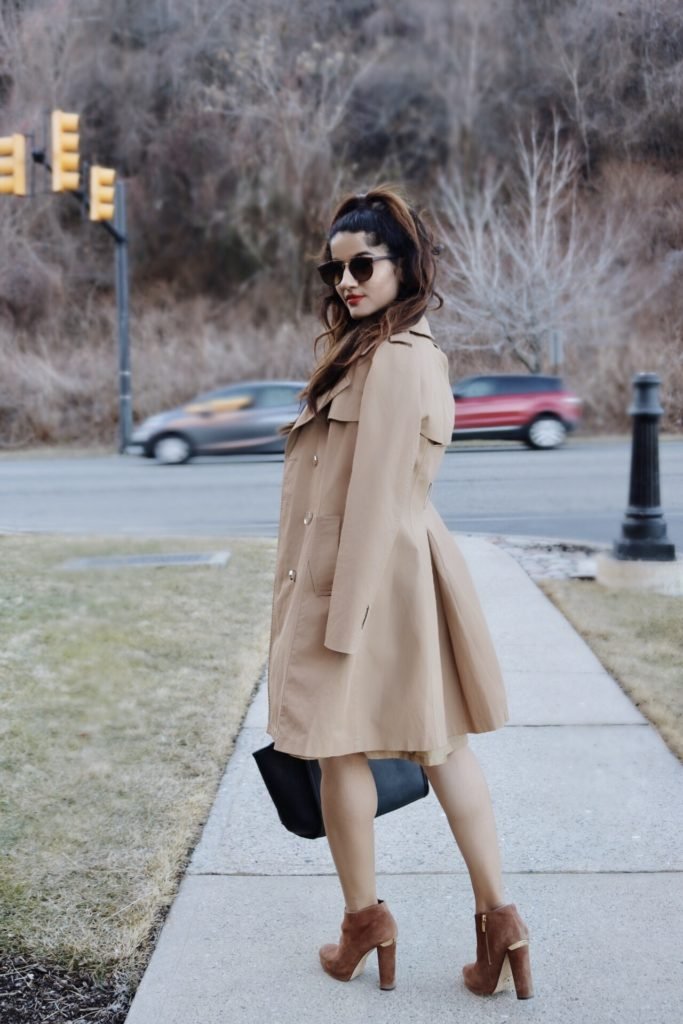 As usual, I added one of my statement necklaces that I own. This one is from Laila Rowe and definitely sold out. I added couple others that I thought would look similar when put together with this look.  Along with my statement necklace, I did add my old Micheal Kors Booties I have mentioned in previous blogs few times. Again, unfortunately, another sold out item, however, I added similar ones and they are lot more affordable 🙂
One last thing I added to this look was a simple black purse that I had bought from Forever 21 a year ago. To make it fun I also added pom-pom key chain that I had purchased from Ross. Pom-Pom Keychain is another hot product that has been getting a lot of attention since past year and you can buy them from many stores with different price labels.
SHOP MY LOOK
Thank You for reading today's blog post!
XOXO,