Happy Friday Y'all
Today's post is about one of my favorite outfits and a trend that I have been enjoying the most recently. As you already know by the title " Denim with Patches" is definitely hot these days. Many stars, models, and bloggers are incorporating them in their looks not only on the runways but also in their day to day street looks. Recently, even Gigi Hadid collaborated with Tommy Hilfiger and launched her collection in which you will see some denim items covered with fun patches. Did you know the entire collection was sold out in a day when they launches and they had to restock? Well, I absolutely loved her collection, it's divine. Many people are also just doing it as a DIY project and ironing the patches on to their old denim jacket to give it a new life, which is kind of cool.  I love Marc Jacobs, he is usually the one bringing these old trends back in today's crazy world which instantly becomes the new hot thing.
I absolutely love anything that stands out; therefore, this outfit defines my style. Recently, one of my best pals who also happens to be one of my favorite fashion blogger's asked me a question that got me to thinking. Her question was very simple yet complicated. She asked me "Monica, how would you define your style?". After a good long pause, I said, "Um, good question! I am not sure. I just like anything fashionable". Well, I couldn't be any more wrong than that.  After thinking about it for few days, I finally found the answer I was looking for. I still have a long way to go to really define my style and inspiration well and most likely that will happen soon.  I sure will blog about it separately but for now, I know the answer to that very question she asked.
In a nutshell, I would define my style, "Bringing runway to streets". As I mentioned above, I love things that stand out.  I am less likely to wear something casual on even a casual day. I know – I know I am exaggeratinga bit too much but oh well you get the point. Anyways, let's talk about today's featured outfit.
In this outfit, I am wearing my Denim Jacket with patches from Charlotte Russe, which I am obsessed with if you can't tell already. This jacket is not only super cute but super affordable. I just love Charlotte Russe in general. I love everything about that store- clothes, jewelry, shoes and most of all their price label.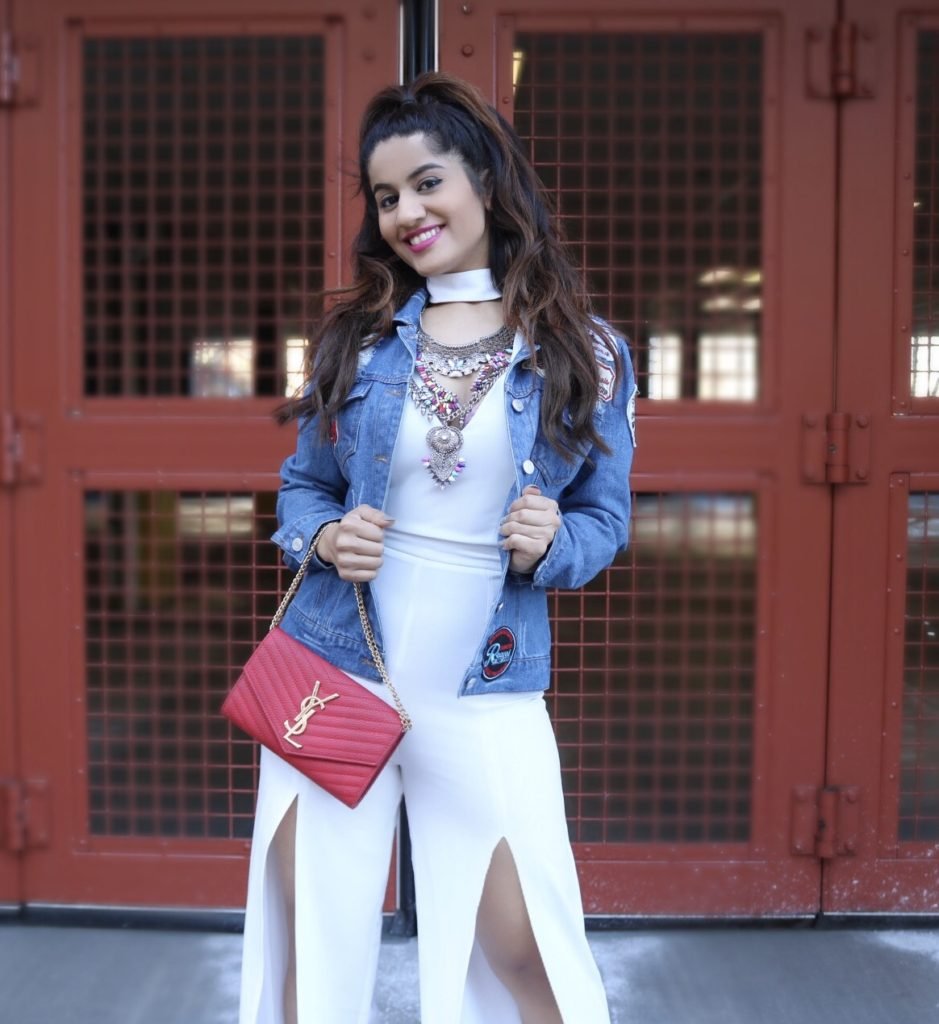 I paired up my denim jacket with one of my favorite Jumpsuits of all times. Part of the reason why it's my favorite is because it's from the collection Carli Bybel X Missguided. Carli Bybel is a successful YouTuber with 5+ Million Subscribers and a fashion blogger. I love Carli Bybel's style and when I saw this piece on her, it was love at first sight. I love the slits on the legs, it's sexy and classy at the same time.  She collaborated with misguided and created so many beautiful pieces.  Some of them are still available and are on sale so catch them before they are gone. Unfortunately, this particular jumpsuit is sold out. I did also add couple similar ones down below for you to take a look at.
Along with this amazing denim jacket and a fun jumpsuit, of course, I had to add my statement necklace.  By now, most of you already know how much I love statement jewelry. Well, this particular one I got is sold out and it was from eBay a long time ago from a seller that has a lot of similar necklaces. I couldn't find it in ShopStyle so CLICK HERE FOR THE EXACT LINK.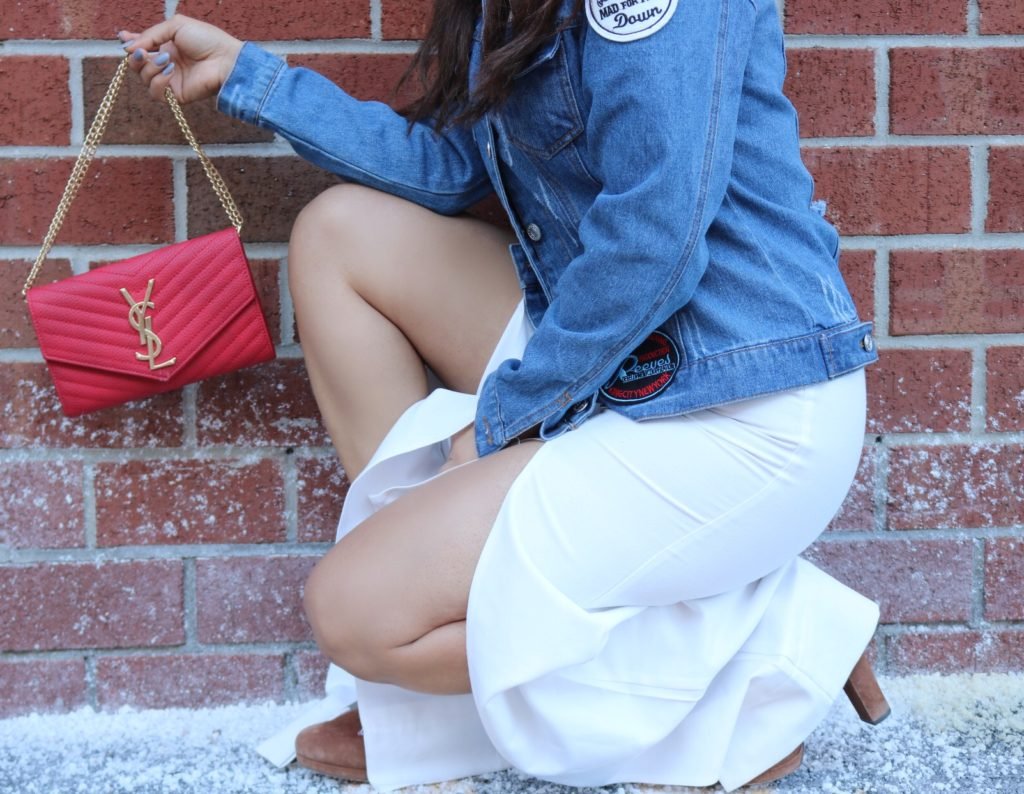 To finish off the look I decided to carry my red YSL clutch and booties by Micheal Kors. The booties are sold out so I added similar ones down below.
Photographer: @District.Vy ( FOLLOW HER ON IG)
SHOP MY LOOK
Thank you for reading today's post!
XOXO,