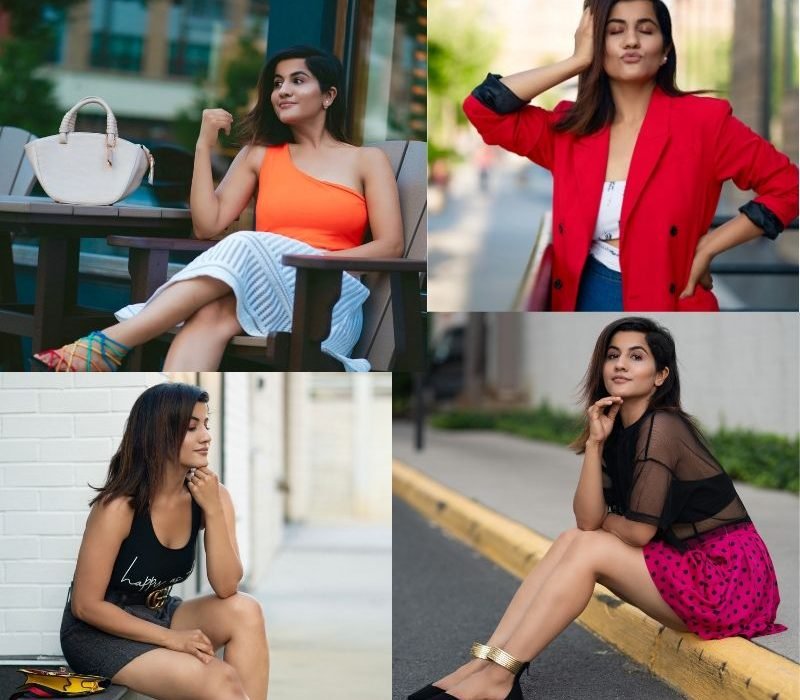 It's been a while since I have written a full-blown creative blog. Even though I have been posting a lot of quick blogs under the OOTD section, I truly miss the creativity. A lot has changed in my life since the October of 2018. My motivation level towards writing a blog (especially about the trips I took), social media ( as simple as commenting back or responding back to the DMs), collaborations, and being creative in general has diminished by like a million percent. It has only been a few months since I have started refocusing on these things again. I have a ton of catching up to do, and I am definitely still not doing the finest job. I started blogging because of my passion towards Fashion and Dance. Which is why, I miss it. I miss it all! Here is my effort on giving this a 100TH shot.
Today's blog post is not a LIFE UPDATE. As you can see from the title, it's about swimsuits. Every girls favoring summer talk! I wanted to showcase Swim Suits from different perspective. They aren't just made for visits to the beach. Here are my attempts on wearing swimsuits on a regular basic. Let's get more for our money. One of my favorite things about fashion is 'mixing and matching' various pieces and experimenting till I am satisfied with the end product. Believe it or not, most of these items are as 4-5 years old. So without any further ado, lets jump right into it.
Please Note: All the swimsuits are from SHEIN! One of my most trusted online web-sites.
* You can use a discount code "Q3monicaahuja" for 15% off of any purchase from SHEIN*
This is my absolute favorite bathing suit!I love how fun and playful the colors are and I am obsessed with one-shoulder blouses and bodysuits. It accentuates my shoulders ( I love my shoulders :P) I paired this bright and beautiful orange swimsuit with a white skirt from Forever 21. To add some color to my feet, I added the colorful striped shoes from Charlotte Russe.To finish the look, I have added the bag I got from "Oliver Bilou" sometime last year.
I would wear this outfit to brunch with my gals and/or even to a nice summer date."
What I love most about this swimsuit is it's color and texture along with its fitting. It reminds me of a marble. The cut-out accentuates my body in the right areas. I paired this cut-out bathing suit with a Blue Denim American Eagle skirt that I bought from a thrift store approximately 2 years ago. To give the entire outfit a pop, I added this slim fit double breasted bright red blazer I bought from SHEIN. I also added the matching bright red pumps that I bought from one of my trustable online websites 'Just Fab.' To finish off the look, I added this fun clear and white bag from Forever 21 that I have recently added to my closet. ( It is sold out, here is a SIMILAR)
I would wear this outfit to one of my blogger/influencer events and/or Girls Night.
Everybody owns a classic low black swimsuit, I know I do. What I love about this one is that it states "Happy as F***" and it fits like a glove. I paired this swimsuit with these dark grey shorts from a Thrift Store. I love the way these shorts fit me, it also comes with a belt that I replaced with my Gucci belt for this particular look. I have added the white pointy flats from SHEIN ( Sold out, here is a similar). To complete the look, I have added this bright yellow graphic crossbody bag to give it some color.
I would wear this outfit to just go take care of my chores while running around the city. It's not only cute and trendy but super comfortable at the same time. Who doesn't want that in their closet?
This swim suit was definitely My Everest. I barely ever wear a bikini and I have never posted a picture in one. This particular bikini set is super sexy. To be quite honest, I was a bit hesitant and excited to see what would I pair this with. What's so special about this Bikini set is that the top is literally a plain black long piece of fabric that can be tied how ever we want to. The bottom is high waisted and fits really well. I am sure girls could wear just the bikini top and jeans and voila you have yourself a sexy club outfit. Here, I have paired it with these with black polka dots skirt ( Skirt but shorts) that my sister got 6 years ago from god knows where. (I must say- she has an incredible taste)
To cover-up, I added the sheer black top that I got from Forever 21. To finalize the look, I added flats with golden ankle straps that I received from one of my girlfriends a couple of months ago.
I would wear this at the boardwalk of any beach especially during an evening. A place like seacrets in Ocean City or Miami.
Thank you for reading today's post!
XOXO,