Happy Thursday!
Today's blog is a little different. I am going to share my experience regarding shopping with this Retail Online Business call "SHOP LC". First of all, this shopping spree was a part of a collaboration and they gave me 100 bucks to spend on anything on the website. From Women to Men's jewelry to beautiful accessories to home decor and kitchen products to DIY's and as seen on Tv- They got it all! I was so confused on what to do with those 100 Bucks because there were so many things I was interested in purchasing. My favorite category on their website was Jewelry. Their Jewelry collection is huge. They carry gold, silver, crystal, diamonds- basically everything!. However, I didn't purchase any Jewelry items because I wanted to use this credit wisely towards something I really need. Thanksgiving was approaching, therefore, I decided to get mostly Kitchen Items so I can use them during the Thanksgiving weekend. My family and relatives were coming from all over the states, so the pressure was real.  Also, my favorite thing about this shopping spree was how inexpensive everything was. I picked out 6 Items for 104 bucks after a 20% Holiday Discount. Isn't that amazing? Shipping was also very quick, I received all the products in a week. Here is what I picked out.
The first item I picked out was Handcrafted Shisham Wood Bread Cutter with Crumb Catcher and Knife. It's not only a perfect bread cutter board but also perfect for flatlays for other food items. It's made very well and actually has some weight to it. It's only $13.49. It's honestly a steal for how good this item is. This was my favorite item of all.
Here is how I used it for Thanksgiving. Bread and Butter makes a great start to a full-blown meal. Don't you think?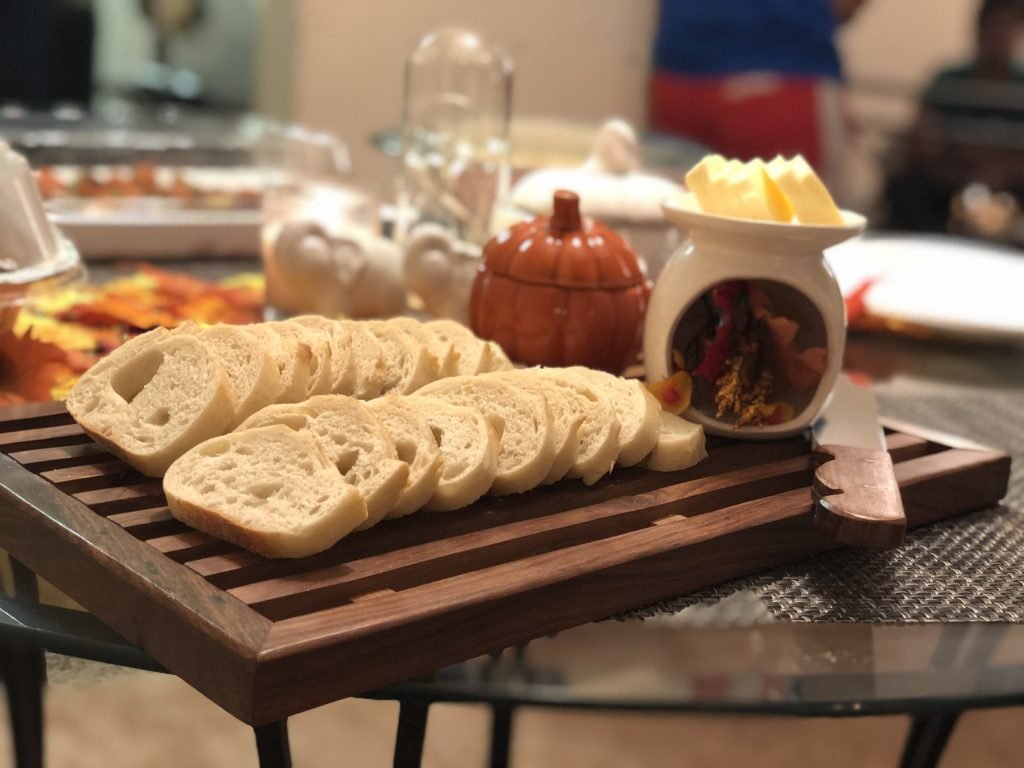 The second Item I picked was 29 Piece Set (13 Piece Cutlery Set, 10 Piece Measuring Spoon Set, 5 Piece Kitchen, 1 Utility Board) Includes Santoku Knife. My sister complained so many times that we don't have good knives. Therefore, this was perfect for us. Actually, it was perfect for my sister because she is the one who cooks mostly in the house. These Knives are very sharp, just the way we wanted. The cutlery set, measuring cups and utility board came in super handy while prepping up for Thanksgiving meal. And this entire set was only $18.74.
The third item I picked out was EdgeHome-5 Piece Cheese Knife Set (1 Cheese Knife, 1 Cheese Cleaver, 1 Cheese Plane, 1 Cheese Cutting Board, 1 Carrying Case). This was the cutest item of all. I haven't used it yet but I am so excited to. All I know, that Knife is super sharp, so there is no playing around. I am excited to take this to any picnic. Also, that carrying case is made of such good quality material.  This item is only $12.99
The fourth item I pick out was Silicone Cupcake Baking (10 piece set). Baking in Silicone Material is so much better than those other metallic or glass bake trays. I had been looking for one on Amazon, but its super expensive. Just one silicone bowl was 7 bucks on Amazon. Therefore, I was really happy to find this set here. Guess what, it's only $14.99. Also, I make Keto Desserts, and those are easy to make on a Silicone Baking Set. So this item was definitely helpful. I will be adding more pictures to this blog once I get to use it.
The fifth item I picked out was Dutch Oven. This Dutch oven can be used for creating soups, stews, roasting, and much more,  which made it a perfect item to purchase for Thanksgiving Meal Prep. It also includes a wire frying basket. I love items that we can use multiple ways and this one is certainly one of them. The only thing I didn't like that the material wasn't very thick. However, it still worked fine when we used it. I couldn't take any pictures at the time. But I sure will post some soon.
The last Item I chose was this home decor piece "Yellow LED Enchanted Fireflies Glass Dome with Wooden Bass". I thought it would make a perfect centerpiece for Thanksgiving along with other decorative items I had on the table. I absolutely loved the way it looked. Also, it is only $7.99.
Hope you guys found all this information helpful. I highly suggest to check out "SHOP LC". Please let me know if you do and what you purchase.
Thank You for reading this blog post!
XOXO,