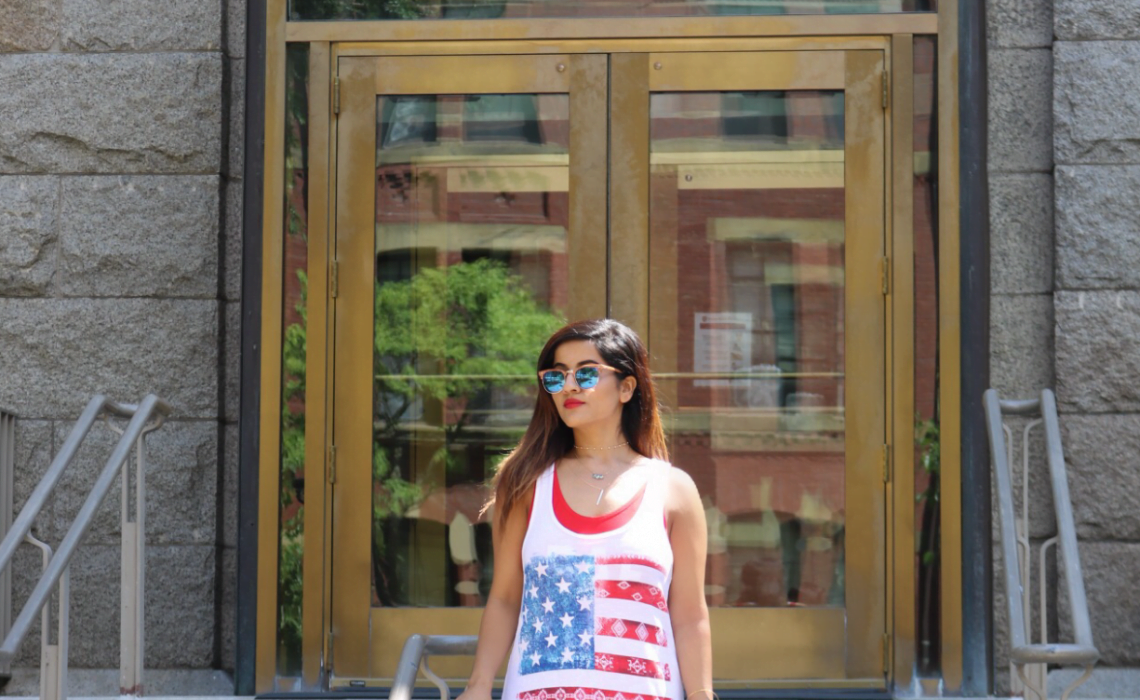 Hello All,
As some of you may know, I took a quick trip to Massachusetts for the 4th of July Weekend. It was a last minute trip, however, it was so worth it. The main reason why I planned this last minute trip was to visit my cousin Kailash Ahuja. He is currently a graduate candidate at Hult University with a Masters Degree in Finance. I wanted to spend some time with him as I can't attend his graduation, plus he hasn't gotten a chance to see anything since he started going the University there. We both completely looked and acted like tourists for those 2 days with our DSLR in our hands and taking about a million shots, mostly of me though 😛
Anyways, Boston and Cambridge are the two cities that we visited on this short trip. If I were to define Boston and Cambridge in a couple of sentences, it would be – "Unpredictable weather,  a lot of red bricks and historical places, a sucky  nightlife (Clubs close at 1 AM), beautiful architecture, library and gardens along with  the Top 2 schools in the world (Harvard and MIT) and hell of a lot  international students. With that being said, let me share ten places you must Visit in Boston and Cambridge. ( No Particular Order)
No. 1: HARVARD UNIVERSITY
Of course, I went visited Harvard University. The luck better comes my way because I did indeed touch the magical foot of Mr. Harvard. The university is one of its own. I don't have to say much, there is a reason it's one of the top universities in the world. I was so excited to see where some of the most prestigious and renowned people graduated from such as Theodore Roosevelt, John F Kennedy, George Bush, Bill Gates, Barack Obama, and much more. There is so much history made in this very University.
No. 2. PUNJABI DHABA
If you are Indian or love Indian food, then this place is for you. It's an Indian authentic restaurant with tons of options from Punjabi food Items to even some South Indian options such as masala dosa, sambhar etc. It's about 1.5 Mile away from Harvard Square. This restaurant is listed as Best of Boston 2006, 2013 and 2014. It also has achieved Readers Choice award No.1 in 2015. p.s. Beware of their portion size, ITS HUGE ( You get a lot of food for a little amount)
No. 3 BEACON STREET LOCALE
It's a street full of beautiful red brick houses and even some fraternity houses. Most of the houses have a beautiful front yard. It's a nice street to walk around and also take those pretty sidewalk pictures. I also found this huge chair on my way to see the 4th of July fireworks; I thought it was cute so here is the shot of that.
No. 4  CHARLES RIVER ESPLANADE
I will like to start by saying I have never seen that many people for a 4th of July celebration, even in DC. That's how big it is in Boston. Every year fireworks take place in Charles River Esplanade, where they have this huge dome shaped stage for the concert. Apparently, that stage uses to be a tea house, which I learned from the presentation they were playing while we were waiting for the concert and fireworks to start. I thought that was pretty interesting. We also walked at least 3 miles to get to the esplanade. One thing I loved and I like to highlight, is that the security was tough and there were many First Aid stops along the trail. I felt very secure there.
No. 5 NEWBURY STREET
It is very close to Beacon Street as I mentioned above. It runs for about 8 blocks filled with Boutiques, Salons, Restaurants etc. You can find almost everything here. It's a perfect place to go in the evening for some food and drinks. You will find several local people showcasing their talents such as playing some instrument or dancing in various spots throughout the street.
No. 6 BOSTON HARBOR
Boston Harbor is simply beautiful, very similar to Baltimore Harbor with less Food and Shopping Options. What stood out to me was the HUGE FLAG on the main entrance to the harbor (May be due to 4th of July).
No. 7 POST OFFICE SQUARE
I must say, this was my second favorite place that I visited in Boston and Cambridge after Harvard University. It's such a beautiful area to just walk around, take a picture, and or picnic. It's a decorated pathway with benches alongside which leads to a fountain. I don't know but something about that place made me happy and I felt peaceful.
No. 8 BOSTON COMMON & PUBLIC GARDEN
Another fun spot for family and friends to play games like volleyball, walk around, picnic and etc. It is huge and reminded me of Central Park. There is a lot to do here. You will get to see various man-made lakes, unusual plants, the Lagoon, fountains, monuments and sculptures at different spots in the Garden along with the Swan Boats created and operated for over 100 years. Many guys have proposed their girlfriends at around the Swan Boat area. The breeze was just perfect for us to sit down on the grass for about 30 minutes and talk. It was lovely.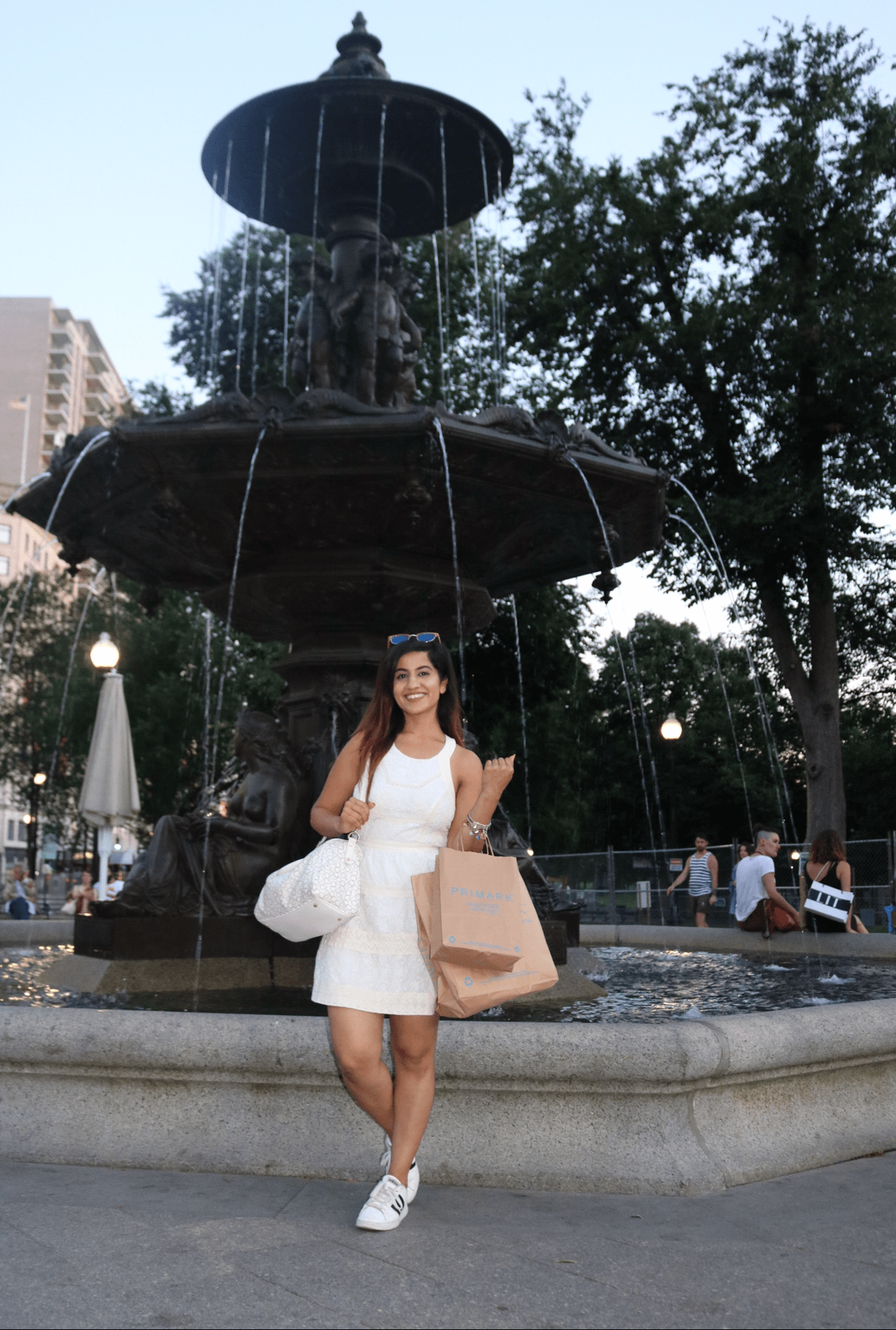 NO. 9 DOWNTOWN BOSTON
Downtown Boston is a fun place to visit; it is like a mini New York City. Actually, a lot of places in Boston reminded me of New York City especially the fact you can't drive in Boston, Metro is the best way to travel. Anyways, Boston Downtown also has those stairs just like the Red Stairs in Times Square. Downtown is full of restaurants and shopping places. I personally went to Primark where you can find such affordable and trendy clothing accessories both for men and women. I never knew such place existed; apparently, there are more of them. But I definitely recommend all the fashionistas to visit Primark if going to Boston. I also did stop at Nero Cafe for a quick sandwich which tasted really good.
NO. 10 LOLITA COCINA & TEQUILA BAR
I absolutely enjoyed my time there. As I mentioned above, nightlife in Boston and Cambridge is not anything like here in DC. However, this place is a perfect spot, if you want to go on a date, eat delicious food, dance or just drink. The setting of this place is underground. I love the fact they use real red roses for their centerpiece on each table. We went there for food and drinks. At first, I thought the food choices were not great but I assumed the portions were small and won't be filling. However, yes the portions were small but super heavy. We were full with two orders of tacos. Also, the cutest thing was when they bring GIANT COTTON CANDY as the end of your meal as a token of appreciation to eat at their restaurant. I am a sugar freak, so for me, that was my absolute favorite part. And yes, I ate the entire cotton candy by myself 😛
Thank you all for reading today's blog!
XOXO,