Good Afternoon Y'all
I hope your morning was better than mine as I think I am about to get sick. My nose is running and my head is pounding but hey writing this blog for you guys makes me feel a little better. Today's blog is about of course not my sickness but about recreating a purse inspired by "Carrie Diaries". If you haven't seen the show "Carrie Diaries" and if you are into fashion and/or you love Manhattan, then you must visit Netflix right away and watch both the seasons. "The series is a prequel to Bushnell's 1997 collection Sex and the City and follows the character of Carrie Bradshaw during her senior year of high school during the early 1980s and part of her life in New York City working as a writer. The Los Angeles Times described it as an addictive, ingenious origin story" I am sure many of you know "Sex and the City", I mean how can you not? Well, call me crazy but I recently watched all two seasons of Carrie Diaries for the second time in a span of a week and that's when it hit me – Why not create my own little version of that purse? Check out some of the pictures from the show.
It's a  Mark Cross handbag, which was all black until the 16-year-old Character "Carrie" decides to personalize it with her DIY Skills due to a little nail polish incident and started a trend of it own.
No, I didn't have any such accident, I intended mine to be exactly the way it is. I just have been loving splash of colors everywhere and what better way to start this colorful reign of mine than this purse itself. I bought a simple black crossbody from WISH and threw some nail polish creating lines and dots and wrote my name on it. I know I could have done a better job with the way my name is written but oh well I still love it. Many of you have already seen it on my Instagram, but here is what I put together. And, if you don't follow me – go ahead and CLICK HERE to do so 🙂
Now let's talk about the outfit I chose to wore to feature this purse. As you can see I am wearing a combination of two bright colors. Well, going back to the show, Carrie is all about the colors – lots of colors. She wears a lot of those poofy skirts like you would expect a 16-year-old to wear back in the days. Here are some example of her outfit-
Since I didn't have a similar type of skirt or a dress in my closet at that moment, I decided to put together whatever I could find. I personally loved how it looked all together. I wore this outfit on a Sunday when I went to Fairfax for lunch and a cup of coffee. Trust me when I say this ladies, I got a lot of attention that day ( The good kind):)
Here I am just following the trend of ruffles and bell sleeves with a personalized fitted skirt from a boutique that I got last year. I absolutely love both the pieces. But what I love even more are my shoes. I have been dying to wear these babies since I bought them in November on a Black Friday from Charlotte Russe. I just couldn't find that perfect outfit, where I could use them and not look too much with all those colors- You know what I mean? Well since this outfit is all about being too much, here we go! Again, going back to my crazy colorful reign.  Since this blog post is especially for the purse and also these clothing items were purchased a while ago and/or are custom made, it's a given that they are not available. However, I am adding some high end and some inexpensive options down below for you to take a look at to get the similar look if you are interested 🙂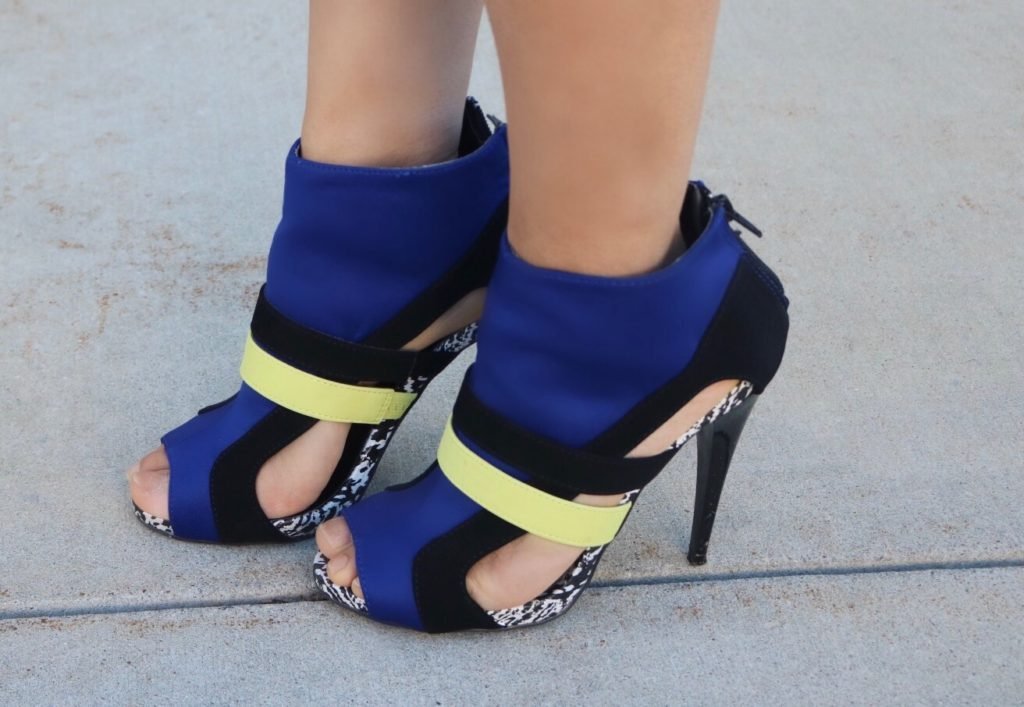 SHOP MY LOOK
Thank you so much for reading today's post!
XOXO,