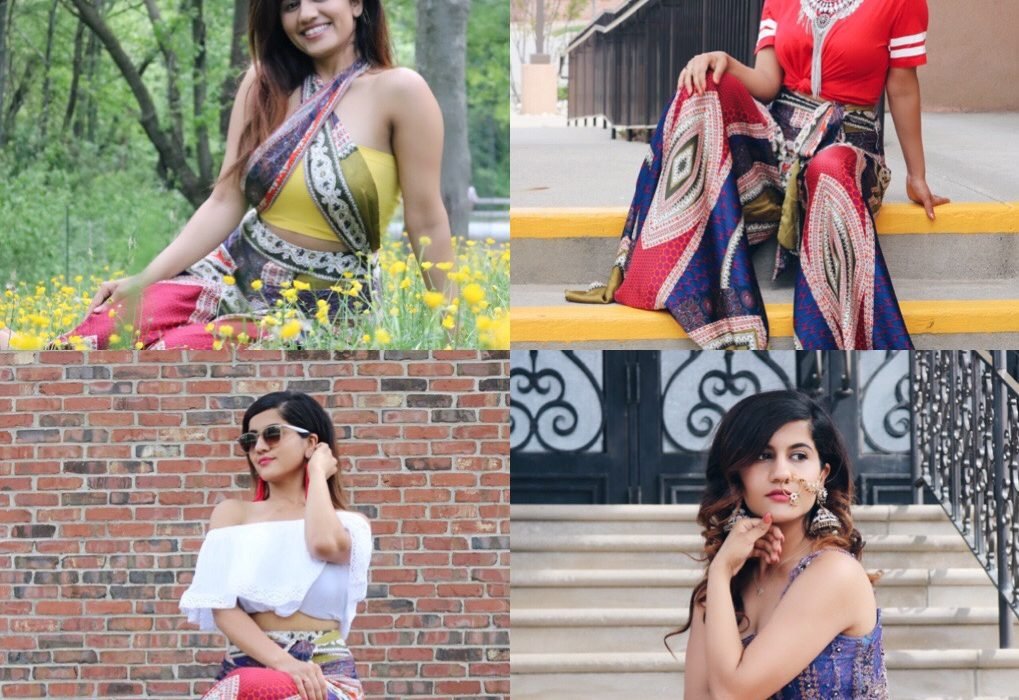 Trend Alert!
Today's blog post is about Printed Palazzo Pants that are still trending. This trend has been taking over many wardrobes and slightly is becoming one of those staple items in one's closet. Palazzo Pants attracted a lot of attention once they hit the runway back in 2014 and new styles from Michael Kors, Rosie Asoulin, and Tibi racked up in Spring 2016. The trend had a setback once people started embracing the skinny jeans and/or pixie pants but they are so back in again with a force. Who knew printed wide leg pants could give such high-fashion looks!
Where and What?
Let's start off by talking about where I got these pants from. These are known as "Gracie Patterned Silk Palazzo Pants" and they are from a local boutique shop which is called "Blush Boutique" located in Gambrills, Maryland. This shop carries basically everything a girl would need in her wardrobe. What sets them apart from other boutiques is that their prices are quite reasonable, they are fast fashion and always have something new for one to look at, blush babes (employees) are professional and super helpful at the same time and also they have the cutest store. You can find their latest styles on their website—www.thepinkwell.com.
Pattern, Print, and Perfection!
These pants are literally perfection. I love everything about these pants. First of all, these pants are made of silk so one can tell how good they must feel on the skin. Silk is considered one of the luxury fabrics and it rightfully is so. Like many other palazzo pants, these are also high-waisted and come with a belt. Belt gives that extra little something in the waist area and can be used and tied multiple ways, which you will see in all the four looks that I put together for this blog. These pants are extra wide which almost makes it almost look like a skirt.
What I like the most about these kinds of pants is that since they are so flowy from the bottom and fitted on top, it actually makes a person appear taller. They are as comfortable as Pajamas but gives you the appearance of a very clean and modernized silhouette.
The print of these pants is quite friendly – and what I mean by friendly is that it's not too loud and one can have so much fun styling these pants, we can dress them up or down. It can look sophisticated or totally bohemian depending on what you pair it with.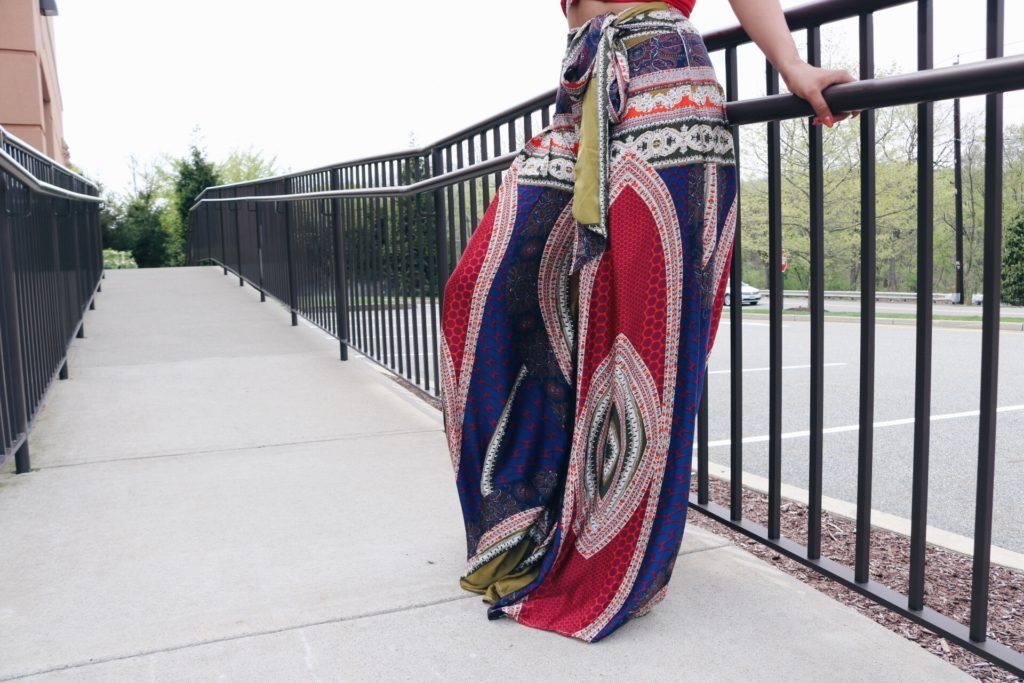 Ready, Set, and Style!
In order to style these pants, I wanted to think out of the box. I am sure everyone knows, these pants look good with a regular t-shirt, crop top, or even a button down blouse for a day-to-day wear look or attending an event. Therefore, I wanted to show what more could these pants be styled with while following the current trends but also looking runway ready. Here I am thinking- " HIGH FASHION LOOKS".
Look No. 1: Let's Make a Statement
 Like many others, I really appreciate statement necklaces. Therefore, I had to create a look featuring one of my recent favorites that I purchased from 'Windsor" along with another current trend which is a crop tee with striped sleeves from "H&M". This look is super easy to achieve yet simply screams chic.
Look No.2: Off-the-Shoulder Anywhere and Everywhere!
 You all know how Off-the-shoulder is one trend that is growing like no other. Therefore, here I am combining my two favorite trends with these pants – Off-The-Shoulder Top from "Amazon" and Tassel Earrings from "Charming Charlie". This is a perfect look for a brunch with your girls or even when you are going on a date.
Look No. 3: Indian Princess
 One thing you all will see more on my blog moving further is how I incorporate my Indian Jewelry and Clothing Pieces with Current American Trends. When I saw these pants, it reminded me of Indian Lehanga(Skirt). Indian Clothing is known for its tribal prints, heavy embroidery, and colors and therefore I used a Lehanga Top which is an Indian Version of a crop top with heavy stonework and embroidery along with some of my Indian Jewelry (Nose Ring and Earrings). I really loved the fusion of these items. Also, if you all haven't noticed my belt is not tied on the front, as usual, instead I tied it on my back to give that clean look of a Lehenga . The skirt went perfectly with the top and for my Indian Ladies out there – this outfit is perfect for any wedding festivities and performances.
Look No. 4: Cross your belt, not your colors!
This is my absolute favorite look out of the four simply because I came up with the idea of using the belt in a totally different way. I took both the strands of fabric of the belt and tied a knot in the back of my neck making a criss-cross in the front. It sort of looked like a jumpsuit but not really. I used my yellow tube top as a base and also to create that color contrast. I really loved the way it looked; I could totally feel the bohemian vibes.
SHOP THE ITEMS FEATURED ABOVE
Thank You For Reading Today's Blog Post!
XOXO,