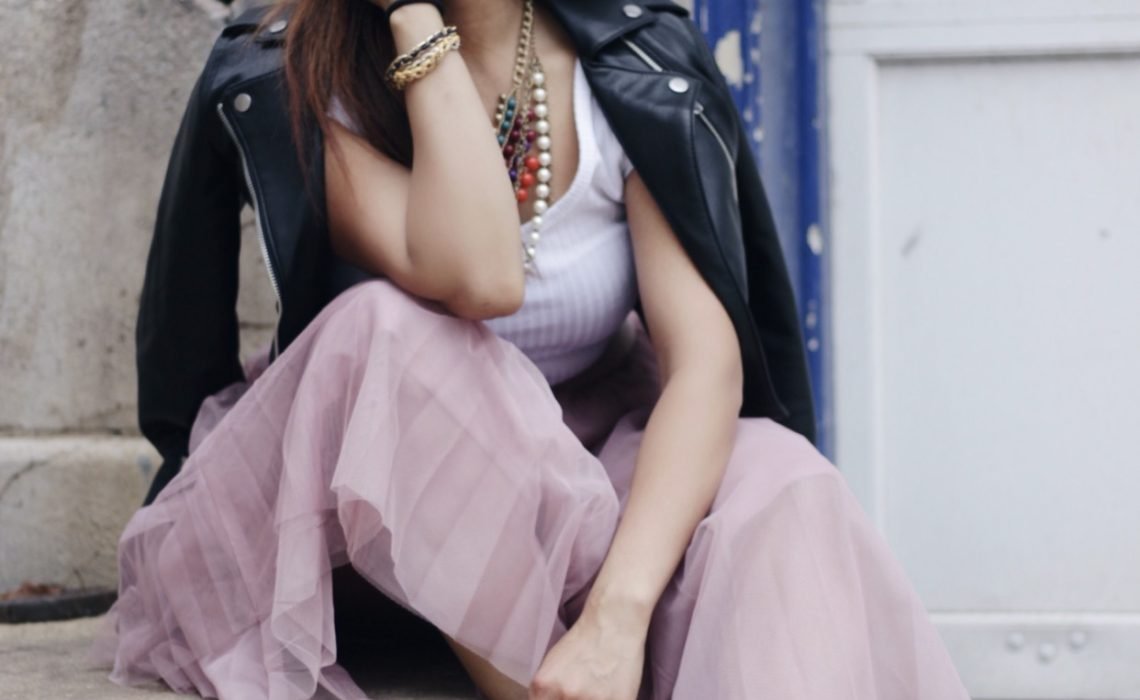 Hello All,
Hope you all have had a productive week, I know I have. So, today's blog post is a little different because as the title suggests, it's about an outfit with a purpose. I wanted to create a look where I would showcase woman wearing edgy and bold clothing pieces such as Leather Bikers Jacket and boots paired with few feminine pieces such as a pretty necklace and a skirt. Now I understand Bold and Edgy means different things to different people, but here I am referring to the pieces I am wearing in this look. My thought process for this look was simply that, it's okay for a woman to have a tough front and a bold attitude while embracing her soft heart and spectrum of emotions. Even in the 21st Century, women are expected to respond, act, and react differently than men. Men are perceived as a stronger being, while women are perceived as emotionally vulnerable. Now my blog is not about gender equality, and hence why, I am not going to debate on who is right and who is wrong. But I am happy about the fact that women have come a long way. Women are far better off today, and a lot more confident in what they do.
Jacket : H&M
SKIRT : CHARLOTTE RUSSE
NECKLACE: HANDMADE (DIY)
I believe for us women, fashion has a power of portraying to the world what we really feel inside. For instance, If I feel like getting all dolled up for a brunch with girls, I am bound to wear lighter and brighter colors, paired with some girly pieces to achieve that feminine look. However, if I getting dressed for a night out, I would like to look or feel sexy, and thus would bend towards darker colors. If I was just going out around the block but wanted to make a statement, I automatically think of something bold that makes a 'statement'. Now I agree that the location, occasion, and colors matter as well, but at the end of the day, it is how you feel that day or in that moment that makes you want to dress up the way you do.  Therefore, I created this outfit/look to show you guys how I really feel. I feel as if I am a strong, confident woman with a hint of a vulnerable side. If I cry, I cry my heart out, and/or If I laugh, I laugh freely. I am sensitive to a lot of jokes and I am not very fond of few people here and there. However, I come off as this person who knows everything and has it all figured out. In all honesty, I don't. I am learning as I go but I am not quite there yet. Yes, I do act like I am the strongest girl in my group, my family, or even at my work. However, I am just as scared as anybody else who simply follows the quote " Fake It Till You Make it".  At the end of the day, I just want to say, it's okay for a person to feel and act carefree.
GLASSES: ROSS
GLASSES: RAYBANS 
BRACELET: H&M
To conclude this blog post, I want to quickly discuss the poses we ( Photographer and me)  chose. I would like to give complete credit to my photographer for this shoot: Bruce from @Thebruceallen. He saw my outfit, understood my vision and instructed me to pose accordingly. The first and last rule that he established was " No Smiling". I did slightly squeeze in my smile here and there for one or two shots though. Haha! But again, the whole purpose was to accentuate my tough front.  Thanks to bruce, I am really happy with how these pictures came out. Too bad that some of these pictures came out a little blurry due to the camera settings, but I have loved every single shot he took. He truly is an amazing photographer and what's so great about him is that he is always willing to collaborate. I am so sure that his passion for photography will lead him to great things in life.
STEAL MY LOOK
Thank You for reading Today's Blog Post,
XOXO