Hello All,
Today's Blog post is about a two-day event that I attended last month- "Urban Desi Conference and Concert" in the NYC. I just wanted to share my experience with you all and also, of course, my outfit deets. First of all, if you don't already know "Desi" in other words means South Asians. This very event was organized by "Monty Kataria & Abhinav Chintakunta of Desi in NYC alongside Rubal Sikka of Storytellers, Ent." This was their second year of planning and executing this event. It has now become an annual event and a successful one. This event is mostly catered to younger generation especially the ones who like Urban desi music which is basically a genre of music formed by the fusion of traditional Indian and Western Urban Beats.
So as I mentioned earlier it's actually a two-day event where the conference takes place on a Thursday and the Concert on a Friday. I went to both these events, and what's so crazy about this trip was that since I couldn't take off from work on Friday. I drove to NYC on Thursday to attend the conference, came back the same night to make it work on time the next morning and drove back to NYC after work on Friday for the concert. Now that's dedication, won't you agree? Well, I had to absolutely attend this event since I had been waiting for it for so long, I didn't let my full-time job get in the way 😛 haha.
CONFERENCE 
Location: EZ Studios, NEW YORK
Thursday, March 30th, 2017
This conference was definitely not a traditional conference that usually takes place before a concert. What I had originally thought that since there were a bunch of popular Artists coming from various countries, it would be more of a press conference where the audience will ask questions and the artists will get to respond. Well, this conference was definitely much more than that. Not only there were well-known South Asian artists which include singers, songwriters, producers, but also successful entrepreneurs, fashion designers, and journalists etc.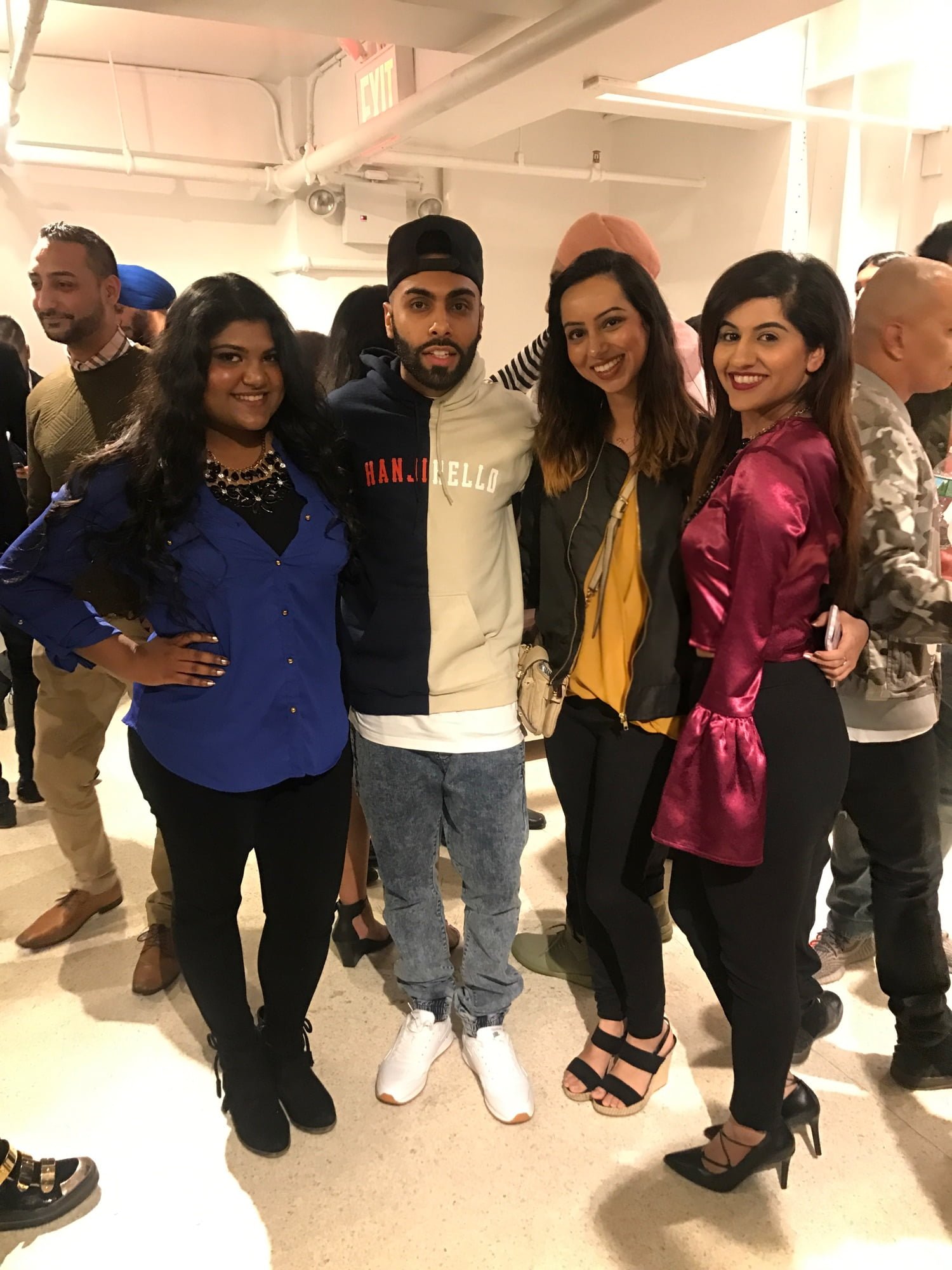 The conference was divided into panels, where there was one moderator, 5-6 panelists and yes audience did get a chance to chime in and ask questions after. There was a total of 5 Panels: New Media, Women Breaking Barriers, The art of building a brand, Going Global and, Creative exhibitions along with one guest speaker "Terry Mardi"  talking about The history of Urban Desi Music.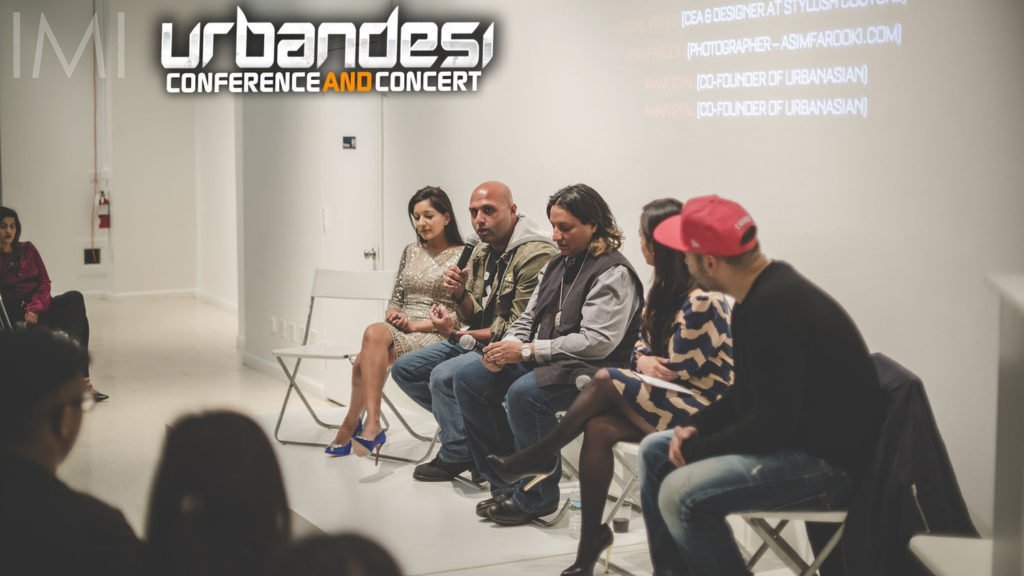 All these panels were very informative and also very inspiring. These panelists had so much to offer and I loved listening to each and every one of them. My absolute favorite panel was "Women Breaking Barriers" where Trisha Sakhuja ( Editor, Brown Girl Magazine) was the moderator along with 5 other Panelists. All the panelists were these beautiful and successful women who were ready to share their own hardship as a woman in the industry and guide us on how to overcome them. Trisha Sakhuja asked some really good questions and one could tell she came prepared. She seemed very confident and had the right words to say at the right time. Well, no wonder she is an editor of Brown Girl Magazine. While Trisha was my favorite moderator, Deepti Sharma, founder of food2eat was my absolute favorite panelist. She stood out to me the most because of her upfront personality. She wasn't afraid of speaking her mind and was very straight forward. I guess the reason I liked this Panel the most is simply because I could relate to it being a woman myself. At the end of the panel, I got to meet and interact with them all.
Other panels were just as amazing, and of course the last panel "Going Global" is where we got to hear from all those well-known artists who have made it big out there in the Urban Desi Music world. These artists include but not limited to Raxstar, The Prophec, Mickey Singh, Zack Knight, DJ Shadow Dubai and Upside Down. They talked about their personal experience on how they managed to market their music and brand at the global level along with giving us the best tips and tricks they learned along the way. At the end of their Panel, we got to hear a little sneak peak of their songs that they were about to sing the next day. We also got to hear from some of the local artists which I loved. And let me just say – Oh my! they are all very talented. One last thing after the conference was the after party for that night which unfortunately I couldn't make due to the time constraints.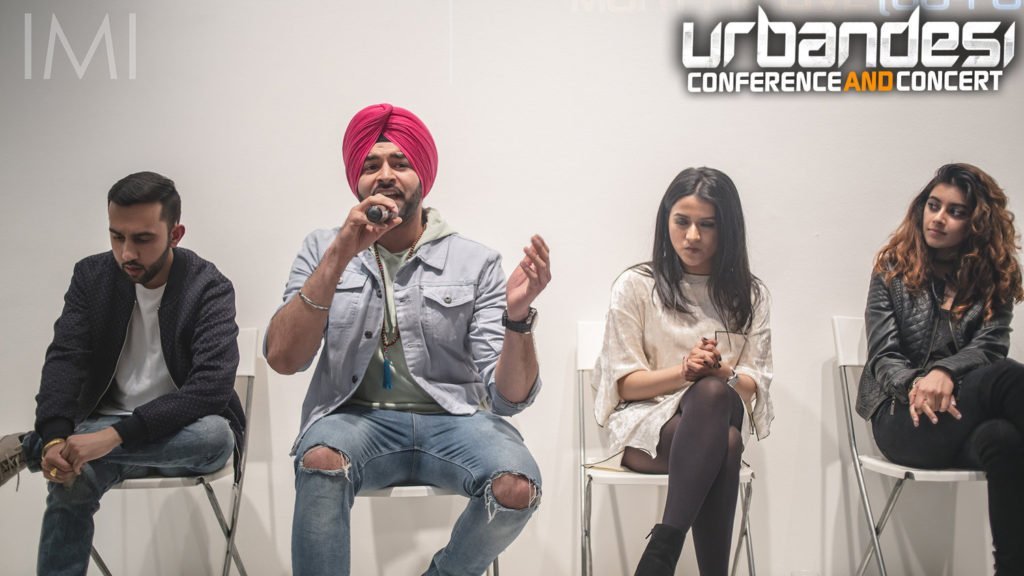 OUTFIT
For the Conference, I wore a recent purchase of mine – this beautiful purple flared sleeve satin crop top from Missguided which was originally priced 40 Dollars and now on sale for 20 Dollars. The fabric is so soft and of course, the sleeves are so in trend right now. It sure is worth every penny. With this top, I wore my absolute favorite pair of high waisted jeggings that I got from Papaya an year ago. I will link couple similar options for you in the section below. To complete the outfit I wore this black statement necklace from Laila Rowe that again I got a while ago. For my shoes, I wore these lace-ups that I got from Payless for 10 bucks on sale (ANOTHER STEAL!)  and also this spring floral " Womens Callie Clutch" is from Payless as well.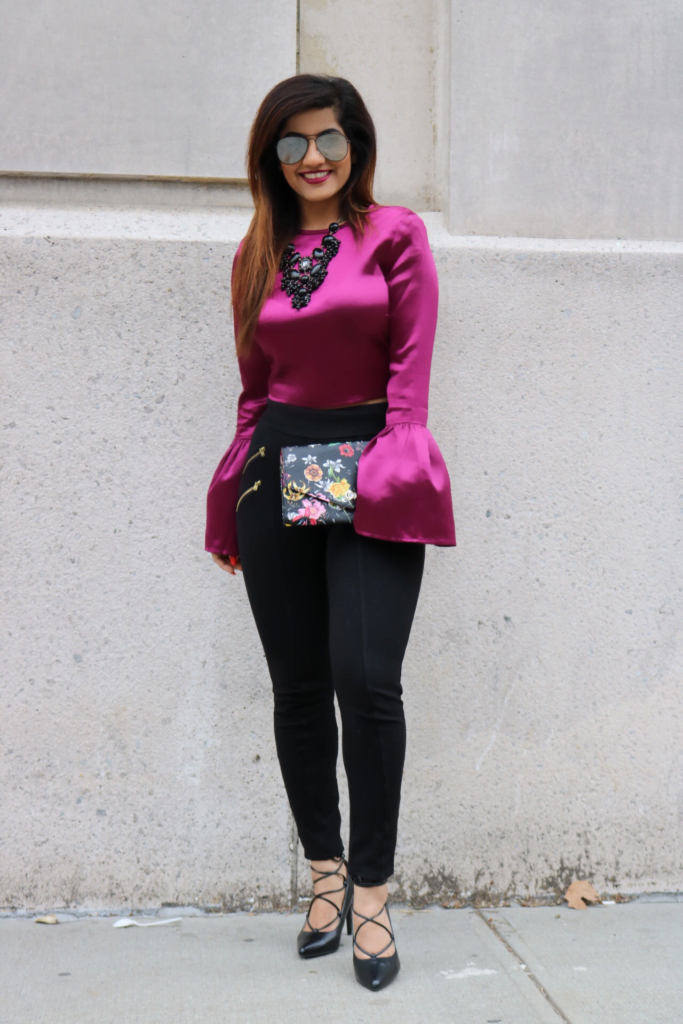 STEAL MY LOOK 
CONCERT
Location: Highline Ballroom, NYC
Friday, March 31st, 2017
Well let me start by saying – IT WAS A SOLD OUT SHOW!. I already knew that this concert was going to be amazing and not just because over ten leading south Asian artists were going to perform along with some of the best local artists but also because the crowd of NYC has the energy like no other when it comes to such concerts. South Asians in NYC metropolitan region constitute one of the largest and fastest growing ethnicities. So it's a given that if such an event took place, with the right marketing and people, it's going to be a sold out show indeed. Of course, all the credit goes to the organizers and the team. Unfortunately, I don't have pictures to share with you guys except for a selfie that I took with my girls. I was mostly just recording small clips for insta stories and I don't see any pictures available online as of yet.
I got there a little late so I did miss a couple artists perform but since the time I got there I never stopped dancing even with the people pushing me and one another. I realized that sold out concerts are fun but they can be very sweaty. However, these artists and their music made up for all the craziness that was going on in the crowd. Every single one of them had loads of energy and did the best they could to entertain the crowd. I certainly was entertained to the max :p haha.
Everyone has a favorite artist or two that they came to see perform and I had a couple as well. I wanted to see Raxstar and Mickey Singh perform. Raxstar is a British-Rapper who is not only a great artist but is very straight forward and humble at the same time. Recently, a couple friends and I were able to put together a little choreography to his song "Balwant"  for a video that was first released on his facebook page. Balwant Song is about the free – spirited women of our country. This song is a tribute to liberated women who do not depend on men to fulfill their needs. I love when an artist creates songs that has meaning & purpose behind it and Raxstar is one of them. Mickey Singh is another well-known artist that I came to see perform, first, because he is from our very own country. Also, because his music speaks for itself. I can say without a doubt, I absolutely love every single song he has ever put together. I have yet to find the one that I don't like.
RAXSTAR
MICKEY SINGH
I wanna conclude this blog post by saying all the artists that performed were on fire. Every single one of them performed as if they owned that stage. I am so glad I was able to make it to both of these events. A huge shout out to Monty Kataria for hosting both the events and I don't think anybody could have done a better job than him. With that being said, you can find the outfit deets for both the events below!
OUTFIT 
Due to traveling back and forth, I didn't get much time to pack so wore something casual that I had available in my car at the moment. I think it still turned out pretty cute tho :P. I wore this black bodysuit that I absolutely love from "Fashion Nova" along with these comfy ripped Jeans in the color navy from "Agaci". My shoes are from "Charlotte Russe" and tassel earrings from "H&M".
STEAL MY LOOK 
Thanks for the reading today's blog post!
xoxo,