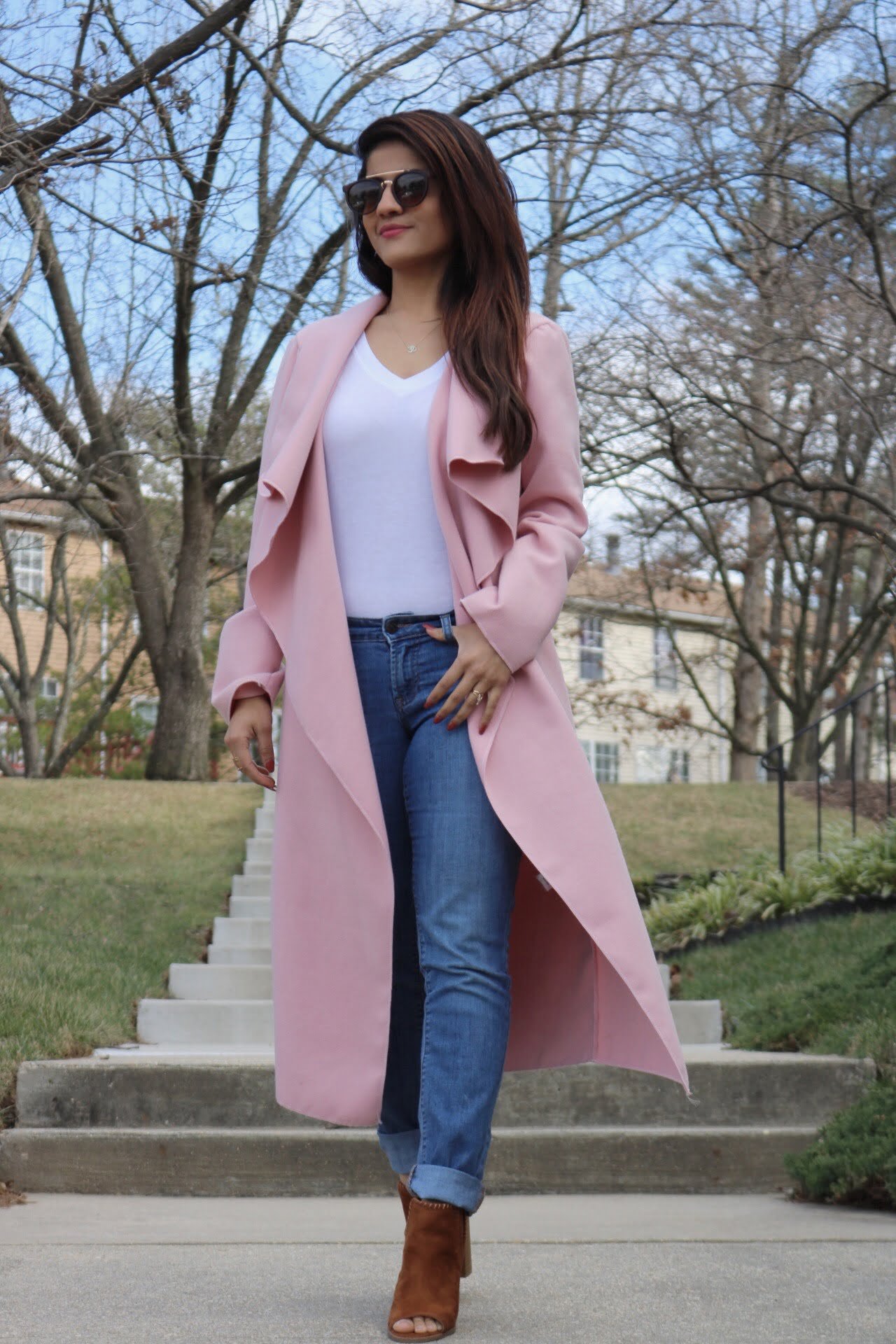 Good Morning Y'all.
Today's post is about simplicity. It's one of the easiest outfit to put together without thinking too much and yet you still pull off that chic and expensive look. Most of these items are in every girl's closet. I am sure most girls own a basic white tee and pair of blue jeans. It's amazing how you can style a basic white tee in so many different ways. I have been thinking about making a fashion video on How to Style White Tee in 5 to 10 different ways, what do you guys think?? Well with this look all I did was added my pretty PINK LAPEL COAT from Missguided and Camel Color Suede Whipstitch Peep Toe Booties from Charlotte Russe.
I love this coat so much. It's just that perfect pink color that looks beautiful when you pair it with anything. You can totally rock this during light winter, spring and even fall. It's lightweight and has no zipper so I wouldn't recommend wearing it during snow. Haha!
Missguided is a really great website where you can find unique high-quality stuff but I personally wait for their sales, since their clothes run a bit on the expensive side. It can range from 20 bucks to 200 bucks or even more. It's more like ZARA or ASOS. However, they always have some form of sales. Since its a fast fashion retailer, therefore they keep moving original price items to sale section very often. If you haven't already looked into it, I would totally recommend it.
COAT : MISSGUIDED
RINGS : CHARLOTTE RUSSE
NECKLACE : MACY'S
GLASSES : ALDO
Another thing I would like to talk about is this necklace. When you pair a delicate necklace with anything, it just gives it that classy look. I love jewelry in general so I love everything such as – Statement Pieces, Big Bold Earrings, Rings, Anklets etc. Basically anything blingy that I can accessorize my outfit with and stand out. However, delicate necklaces are my favorite. They are so simple and you can wear them anywhere on anything you like. They have a way of making a statement of their own. In such case, here I am wearing my 'OM' necklace that my cousin gave me for Christmas. She got it from Macy's. I absolutely adore it!
SHOES :CHARLOTTE RUSSE
As you all already know, Charlotte Russe is one of the favorite brands that I like to buy my shoes from. They have so many great styles and for such inexpensive price label. It's amazing. You got to get one of those if you haven't already. They are not only inexpensive but super comfortable.