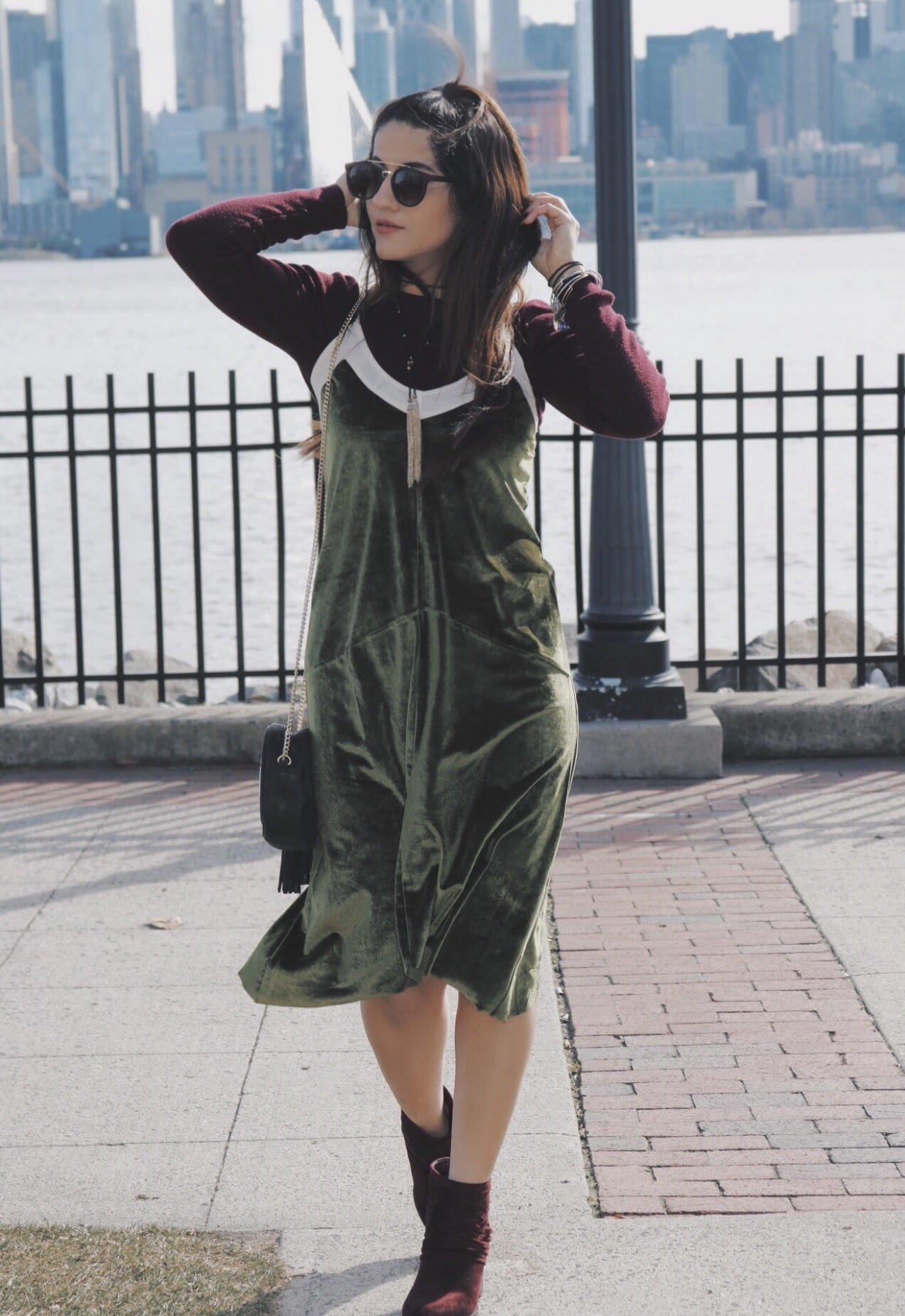 I hope you all are enjoying your Tuesday just as much as I am 🙂
Today's blog post is about street style and how some trends that were popular in the 80s and 90s are making their way back in. Patches, Embroidery, Charms were all super popular back in the 80s. However, it all started again when a high-end designer like Marc Jacob used them in his collection last fall and since then it's been going viral. Another thing that's going viral is wearing tee shirts or any top underneath a slip dress which used be a 90s staple.
I just think both of those trends are super cute and I have been loving them extra lately. They definitely stand out amongst the rest of the crowd. Slip dresses, in general, are super versatile as they can be worn with so many things- you can dress it up or dress it down. When paired with a tee shirt inside, not only they give you that daytime-chic look but when in rush and need an outfit change all you gotta do is take out top underneath and put a delicate necklace on- you my dear are ready for a whole another party 🙂
DRESS: SHEIN
SWEATER: FOREVER 21
Well for this particular post I chose to wear my Color Block Velvet Slip Dress that I purchased from SHEIN a while ago. I like the color Army Green and I paired it up with my Crop Sweater from FOREVER 21 in the color Maroon. I could have put on a white tee and a black leather jacket and call it a day but I wanted to do something different and create that fall/spring inspired contrast look. Army Green and Maroon- both are bold colors so they oughta stand out. It looked perfect for roaming around them street of NYC with one of my really good friends. Also, since it was not too cold and not too hot -it worked very well.
And to complete the look I decided to add my latest purchase from ROSS – one of the cutest crossbody bags with patches I have ever seen. It was love at first sight. I bought the exact same one in denim as well and can't wait to pair it up with something else. Like I mentioned above, this trend is super hot right now and I am loving it. And since it's from ROSS, it came with an inexpensive price tag. I purchased it for $8.99, which is a steal
Not to forget, I decided to wear shoes from Charlotte Russe that match my Crop sweater. I also a wore a beaded wrap necklace by Octavia &Co. Last but not the least, my glasses are from ALDO and bracelets are from Alex and Ani.
Thank you for reading today's blog post 🙂
xoxo