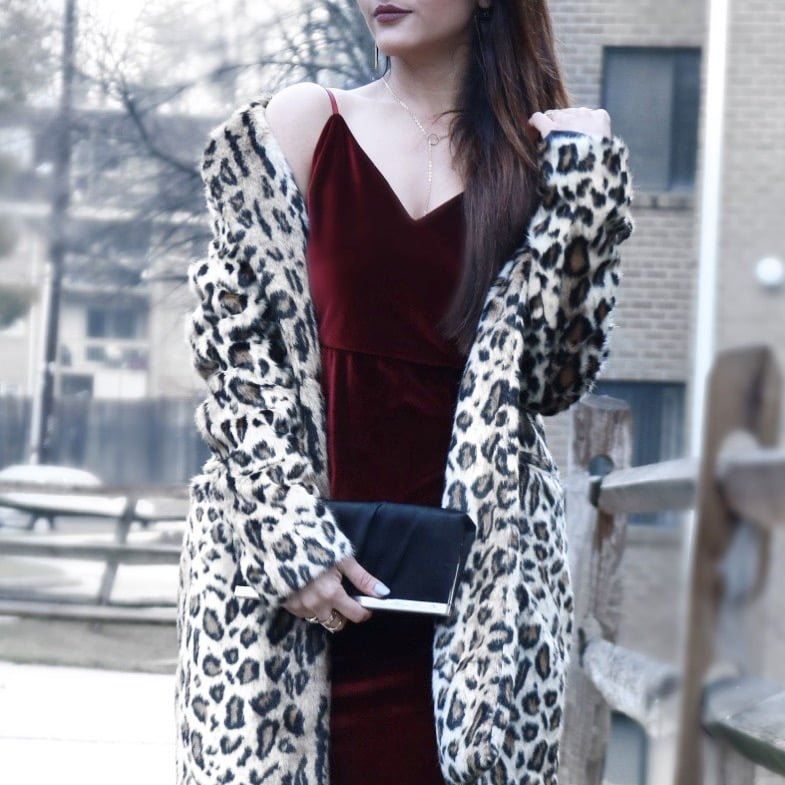 Happy Valentine's Day Everyone <3
Today's blog post is obviously about Valentine's Day Inspired Outfit. Now, this blog post is specially catered to those who didn't get much time to shop for their big date or don't want to spend because it's not in their budget. I personally didn't get much time to shop.  Valentine's Day is one occasion that you can look super trendy without even thinking too much if you incorporate some of the valentine's day colors such as Red (Mostly Used), Pink and White.
I am sure almost every girl out there carries one of the above-mentioned colors in their closet, either in the form of dresses, jeans, top or even accessories.  All you got to do is mix and match for example Solids with Prints. Here as you can see I am wearing an old red velvet dress (no wonder it's big on me now) and a leopard print fur coat that I had recently got from H&M when it was on sale. This particular coat is super warm and cozy. I absolutely adore it. Also, I only paid 30 bucks on it 🙂
COAT: H&M
 I personally love mixing solids with prints as it gives it that extra something. Any animal print fur coat makes any outfit look expensive while making a statement. So I suggest having one in your closet if you are into such prints. It definitely stands out in the crowd.  There is not much thinking involved in this outfit which makes it super easy to put together and still look fab for your date. Also, add any booties for your footwear and it will keep you warm at the same time.  I decided to add my black booties with gold heels from Charlotte Russe.
DRESS: Similar – CHARLOTTE RUSSE
If you are not into such big fur coats then no problem, you can add any other outerwear of your choice that you are comfortable with and try wearing shoes with prints. Again, here I am wearing my leopard print shoes that I got from Rue 21 a long time ago for about 25 bucks. They look super classy and are very comfortable to wear.  I love the detailing on it and that one red strip gives it a little of an edgy look.
SHOES: Similar – SEARS
 Add a clutch of your choice to not only carry your phone, keys and other tiny belongings but also to get that sophisticated look.  I remember I never use to carry clutches or cross body bags until recently and now I am obsessed with them.  I added some rings and earrings from Charlotte Russe and a delicate ring necklace from Wish to complete my look.
CLUTCH: Similar – WISH 
RINGS : CHARLOTTE RUSSE
NECKLACE: – WISH 
SHOP MY LOOK 
Thank you for reading today's post!
XOXO,