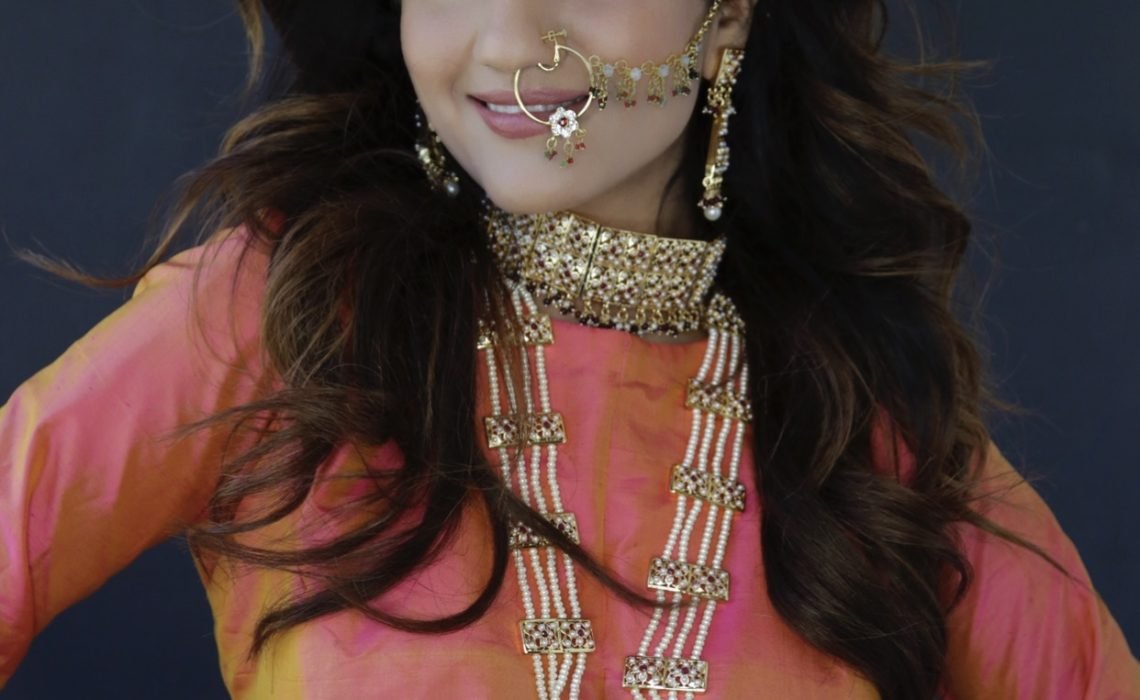 Hello Everyone,
Today's blog post is a little unique because, in this blog post, I am going to show you all how I try to incorporate my South Asian Cultural Pieces with my Western/American outfits, and why this flow can be very trendy.
Today, some of the trends that we seem to adopt here in America or in western countries are actually some things that we South Asian People have been wearing for ages. No not as a trend, but it is actually part of our culture. For example, a "Bindi" which many people recognize it as the "Red Dot" has a cultural meaning behind it. Traditionally the Bindi/Red Dot is normally worn by married women as a commitment to their husband. However, as decades have passed by, people in India started to use them as a fashion accessory. Whether it's in various colors, shapes, and sizes or embellished in stones and glitter the Bindi has transformed into something special over the years.
From there, it did not take much time before it became a trend here in the western countries. For example, we have seen celebrities such as Vanessa Hudgens wearing it at Coachella 2014 or even Selena Gomez rocking her Bindi at the MTV Awards in 2013. The Bindi has become such a famous trend that now you can see every other girl at Coachella wearing some sort of "Bindi" or "Face Jewelry". The Bindi has become a new norm in Music Festivals as a way to express yourself. In fact, if we see anybody wearing such "Face Jewellery or Face Paint", it automatically reminds people of Coachella.
Another trend I want to highlight is Crop Tops and Long Skirts. A "Lehanga Choli" has been a traditional piece of clothing for women of India especially in the Southern States for many decades. A "Choli" is another word for a crop top and "Lehanga" is another word for a long skirt. Now I am not sure if western countries picked up on that and it became a trend or they may have picked it up from other similar cultures. However, to reiterate it is interesting to me that what I use to wear back in India since basically when I was 2, has become a revolutionary trend that just doesn't seem to stop. And there are many other trends such as Bangles=Kangan, Scarfs=Dupatta, Statement Necklace=Shaadi Ke Gehne, Nose Rings etc. that people seem to love here in western countries.
Therefore, recently I started incorporating some of my Indian pieces with all of these above-mentioned trends to my daily blogging life. People like it, I like it! It started with one of the blogs that I recently worked on for Blush Boutique and since then I never stopped. I love creating new looks mixing various cultures and trends. Today, I wanted to show you guys two looks where I am using the same exact Indian Choli/Crop top to achieve a Western/ Indian look.
Look No. 1
Here I am wearing my Indian Choli/Crop Top from "Tanya Collection" along with some Black Ripped Jeans and a Knotted Caged Dress with sandals that I got from "Charlotte Russe". I am also wearing a Statement Necklace from "Laila Rowe" along with a Bindi/Face Jewellery.
Look No. 2
Here I am wearing the same Indian Choli/Crop Top from "Tanya Collection" along with a Lehenga/Long Skirt that I got from one of designer boutiques in India. I am wearing all my Indian Jewelry that an Indian Bride would wear.
Isn't it fascinating when you can use a piece of clothing in multiple ways? What's even more exciting is that I can use some of my Indian Jewelry and Outfit Pieces and incorporate them into my daily life.  I just love the way it looks and also I get a great response from my audience.
I want to give special shout out to Mahreen Agha from Mahreen Photography.  Mahreen has been in the photography business for years and her work is a true representation of perfection at its peak. Her promise is to show you the best images you have ever seen of yourself and that's what she delivers.
A shoot with her starts with a celebrity makeover, clients brings in 5 outfits and she poses and directs to create beautiful portraits worth your wall. She gives you a breathtaking reveal 2 weeks later where you can purchase images that you fall in love with.
A LITTLE SOMETHING FOR MY FOLLOWERS 
Mahreen is extending an offer to all the blog readers a voucher of $100 towards her session.
All you need to do is hit the follow button @mahreenagha and comment on one of my images and done. It's that easy!
Thank You for Reading Today's Blog Post!
XOXO,