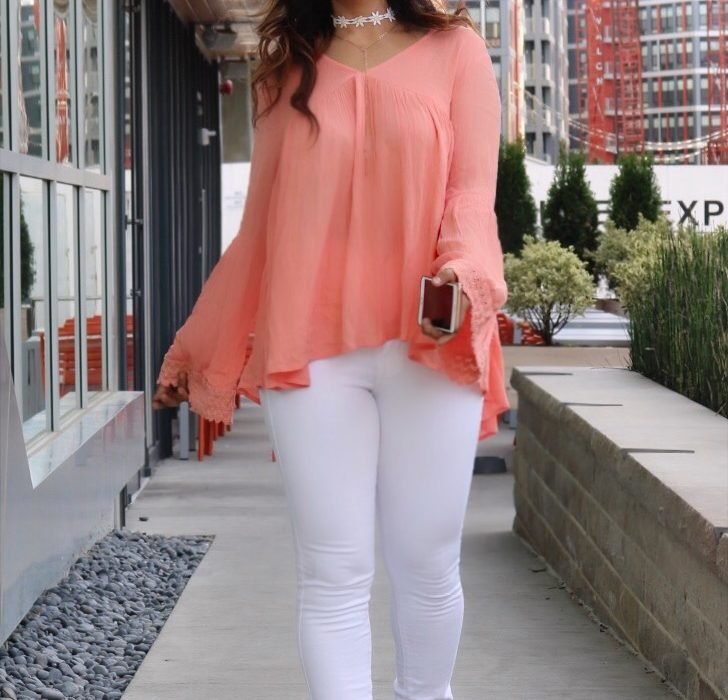 Hello all,
 Today's blog post is about an outfit that you can simply wear on a day-to-day basis or even for a date night or maybe even a brunch with your girls.  Now that summer season has finally arrived colors like peach, orange, yellow, pink and white are going to take over our closets. In this look, I am combining two of my favorite summer colors and also following the bell sleeves trend that just doesn't seem to stop.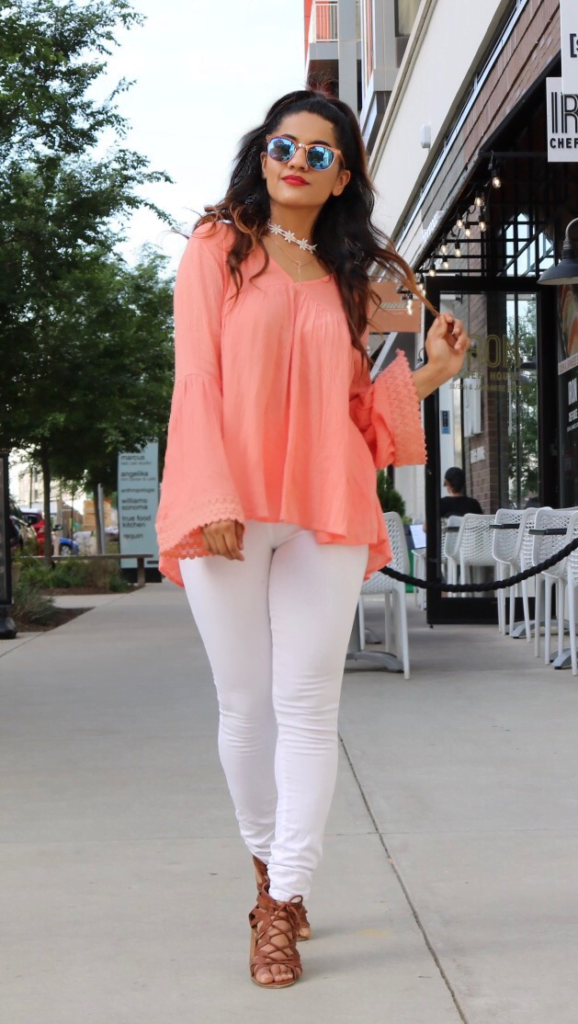 @Unity Blend: USE  DISCOUNT CODE "MONICA17" FOR 20%OFF 
Here I am wearing a top that I received from Unity Blend. Unity blend is a clothing brand that I recently discovered and got attracted to because it focuses on versatility and affordability. The top I'm wearing is a just a fun and a flowy one giving a nice summer vibe! I am wearing the size small. I believe their sizes run a bit big so if you're interested just order. I absolutely love and adore the color and design of this particular top. It's super comfortable to wear. I wore this top while I was hanging out with my girlfriend in Mosiac District, VA this past weekend and was surprisingly showered with some compliments by strangers while we were walking around. As you can see I paired this top with white jeans that I got from Fashion Nova. They are known for their perfectly fitted high waisted jeans, specially designed for curvy women.
To accessorize this outfit, I chose to wear my new favorite floral lace choker that I received from Christy Love Designs. They are known for their jewelry and trendy swimwear. I decided to pair this particular choker with at least 3 outfits in the past 2 weeks, so do expect to see a lot more of this choker in the next few blogs. It's just perfect for summer and of course chokers are in trend more than ever.  I also added a gold chain necklace that I bought from Wish.
In order to complete this look, I added my lace up shoes in camel that I got from Charlotte Russe a long time ago. Lace up shoes are another trend that you will see people wearing in summer the most.
Thank you for reading today's blog post!
xoxo,